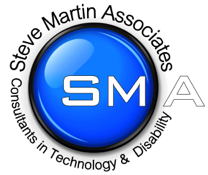 Mike Gomm
Mike Gomm has over 30 years of experience working in the field of special-needs technology. His older brother, Richard, had quadriplegic cerebral palsy, giving Mike a direct and personal insight into the everyday problems faced by families in this situation, as well as the enormous benefits technology can bring to this sector.
Richard was one of the first people to use a Toby Churchill Lightwriter and to benefit from an early Possum (PSU6) environmental control system. Later, he wrote one of the world's first predictive typing algorithms and developed a simple robot arm. He was the subject of the BBC's Making the most of the Micro in 1983 and Microlive in 1985.
Mike's own professional career began in 1986 when he met and struck up a friendship with Steve Martin and joined Elfin Systems. Here, they worked on very special wheelchair control systems, 'first-to-market' communication aids and pioneering products that brought the power of computing to people who had very severe physical disabilities and communication problems.
Mike went on to join Dolphin Systems, at the time, a start-up with a ground-breaking, but affordable, voice synthesiser. Using software, this was exploited as a communication tool for the non-vocal and as a screen reader for blind and partially sighted computer users. The business ultimately specialised in visual impairment and became one of the world's foremost companies in the development of computer-access products for the visually impaired – a position it still holds today.
In 1998, Mike moved into the charitable sector, opening and running AbilityNet's flagship office at Microsoft's European HQ in Reading. The remit was to disseminate information and provide hands-on assessment services in the local community across all disability types for everything from computer access, specialist wheelchair control systems, environmental control and augmentative communication.
In 2003, Mike started his own consultancy business. As an independent consultant he worked as a disabled students' assessor for numerous universities including Plymouth, Brunel, Roehampton and The Open University. The Department of Employment (Wales) regularly sought his assistance in relation to disabled people within the workplace where practical advice and recommendations followed a thorough assessment.
Mike renewed his working relationship with Steve Martin at this time, producing litigation reports and helping Steve to grow the business before taking ownership of it in 2013. Since that time, Mike has focused on the production of litigation reports and building a successful consultancy.
He has worked for very many of the country's leading law firms, personal injury lawyers and barristers. He now runs a small team of highly specialised consultants with dedicated offices and administrative support. He maintains a high case load, whilst mentoring the team and managing the day-to-day operations including supplier liaisons and staff development.
Over the years Mike has prepared many hundreds of technology reports for the Court - in the last three years alone, he has produced over 200 (claimant 95% and defendant 5%). He has a solid reputation for clear, honest advice, working with a very wide range of disabling conditions such as severe physical disability, head and spinal injury, work-related upper-limb disorder (RSI), sensory loss, learning difficulties and mental health issues.
He holds an Enhanced Disclosure Certificate.
Links to BBC media can be found at: www.smalegal.co.uk/richard.html.