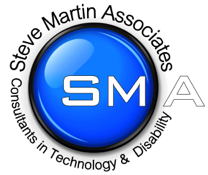 Andy Fell
Andy is an independent disability and assistive technology (AT) consultant with almost twenty years' experience working with all disabilities and age groups. He is a qualified Rehabilitation Officer for the Visually Impaired and since qualification, has lectured on the use of assistive technology and role of AT in the life of disabled people.
He has worked with a wide range of charitable organisations including British Dyslexia Association and was Head of Assistive Technology for Guide Dogs for the Blind. He has also worked for blue chip companies, the emergency services and various government departments including Department for Work and Pensions.

Andy is a Fellow of the Royal Society of Arts, National Disability Advisor for the Royal Yacht Association, Chairman and founding trustee of the Wetwheels Foundation and sits on the British Dyslexia Association – Workplace Assessors Professional Review Panel.
Andy is a member of the following professional bodies/associations:
• National Association Disability Practitioners (MNADP)
• British Dyslexia Association
• Vocational Rehabilitation Association (PRVA)
He is accredited as a trainer and consulted by many of the major assistive technology software and hardware companies.
He has contributed to the following publications:
• Dyslexia in the Workplace – Malpas 2012
• Dyslexia in the Workplace - a TUC guide (3rd edition) Hagan 2014
He has successfully completed the following Bond Solon courses:
• Excellence in Report Writing
• Courtroom Skills
• Cross-Examination Day
• Civil Law and Procedure
Andy Fell holds an Enhanced Disclosure Certificate from the Criminal Records Bureau.