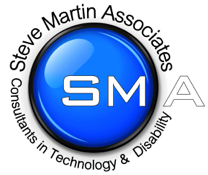 Mike Gomm
Initially interested in special needs technology because of his brother, Richard Gomm, who had quadriplegic cerebral palsy, Mike became professionally involved in the industry in 1986. Mike now regularly works with children and adults who have a very wide range of disabling conditions such as severe physical disability, head and spinal injury, work related upper limb disorder, vision and hearing impairments, learning difficulties and mental health issues.
Mike started his own consultancy in 2003. Prior to that he worked for private sector companies concerned with the design and manufacture of specialist wheelchair controllers, environmental control systems, voice output communication aids and technology for the visually impaired. Moving into the charitable sector in 1998 Mike worked with Microsoft and Hewlett Packard on their community support programmes, assessing needs and signposting solutions.
As an independent consultant Mike Gomm has worked with universities including Brunel, Roehampton and Plymouth. He has also worked with The DWP, assisting disabled people within the workplace.
Today, Mike predominantly works as an expert witness for both claimants (95%) and defendants (5%). He regularly receives invitations from law firms to collaborate on the technology needs of their clients. Identifying solutions to maximise potential, boost self-esteem and improve educational or employment outcomes. Mike also works to achieve the higher level of independence and security for clients.
Mike manages the day-to-day running of SMA and a team of assessors. He oversees the consultant's workload and organizes CPD within the organization.
In the last 3 years Mike has produced over 200 litigation reports, attended numerous case conferences and worked to produce many Joint Statements.
Mike Gomm holds an Enhanced Disclosure Certificate.