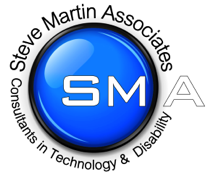 What We Do
SMA's consultants have a long history of producing litigation reports that conform to the requirements of Part 35.
Our consultants produce joint or single expert reports not purely focused on 'special needs technology', but taking a broader approach to encompass any technology that would play an important or vital part in an individual's life.
We are highly regarded throughout the UK among Lawyers and Barristers. We work closely with Personal Injury and Medical Negligence Lawyers to quantify claims, whilst also working as part of a wider team of experts across disciplines. These may include Care, Occupational Therapy, Speech and Language and Accommodation professionals.
=============================
Technology now plays a role in everyone's daily life. Mobile telecommunications, portable entertainment and computer systems are common place - imagine the impact on your life if you were no longer able to interact with a touch screen, game pad or keyboard. We can help and advise.
Then, consider your prospects with a high spinal injury or a head injury that rendered you unable to communicate by traditional means. Special needs technology could make a significant difference to the quality of your life - purpose-designed input systems would enable you to communicate, drive your wheelchair and interact with your environment.
Our consultants are completely independent from manufacturers and suppliers and so can help you with unbiased advice and guidance.